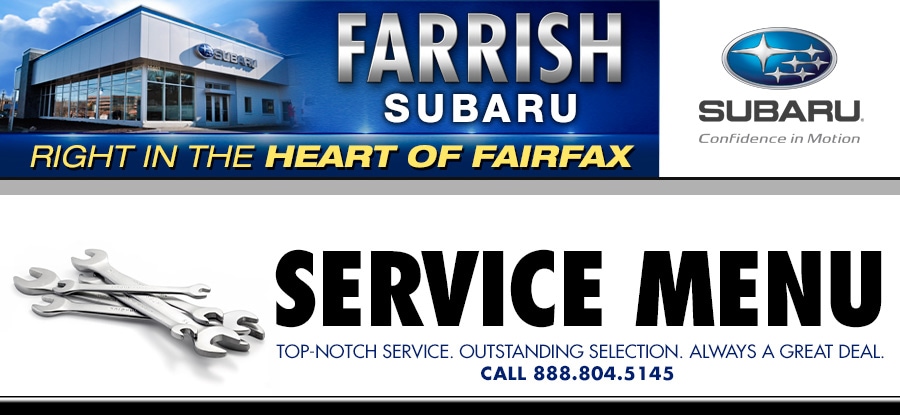 Maintaining the Performance of Your Subaru
Here at Farrish Subaru, we have made a considerable investment to ensure your vehicle is properly serviced, and you are completely satisfied with your Subaru ownership experience.

Our service facility utilizes the latest equipment and Subaru special tools/diagnostic equipment.
Our technicians are Subaru trained and certified on the latest Subaru technology advancements.
We use only Genuine Subaru Parts, which are exactly engineered and designed to fit your vehicle.

Performing routine vehicle maintenance will prolong the life of your Subaru, optimize fuel economy and result in a higher resale value. In order for us to help you maintain your Subaru in a manner that keeps it trouble-free and a pleasure to drive for many years to come, you should be aware of the maintenance intervals and requirements. Listed below is the Farrish Subaru recommended maintenance schedule.

Intervals and Recommended Service
2014 & Older
2015 & Later



Conventional Oil Change Service (every 3,750 miles)

Synthetic Oil Change Service (every 7,500 miles)

Intermediate Service I (every 15,000 miles)

Major Service I (30,000 and 90,000 miles)

6,000 Mile Service

12,000 Mile Service

18,000 Mile Service

24,000 Mile Service

30,000 Mile Service

36,000 Mile Service




This schedule is based on the recommendations found in the Subaru Warranty and Maintenance Handbook. Additional services may be recommended based on local climate, road conditions, vehicle usage (repeated short distance driving, towing, etc.), and our years of experience with local driving conditions.

Not all services are applicable to every model/model year, and in some cases, prices may vary by model or equipment. Prices are subject to change without notice. Your service adviser will explain and confirm pricing details at the time your Repair Order is written.

** Note: Some 2011 model year and newer vehicles require the use of synthetic motor oil due to the advancement in engine designs for improved fuel economy and endurance. We recommend Genuine Subaru Synthetic Motor Oil, which was developed specifically for the new engine design.

Find the service you need and contact us.

You can call (888) 485-6484 or click the Schedule Appointment button.
We will confirm your appointment and service requested.


---

Minor Basic Service I* (every 3.75 months)

Mileage Intervals:
3,750 / 11,250 / 18,750 / 26,250 / 33,750 / 41,750 / 48,250 / 56,250 / 63,750 / 71,250 / 78,750 / 86,250 / 93,750 / 101,250


Most Models: Turbo Models (before 2010): $36.95
Six-Cylinder Models: $42.95 Synthetic Oil Models: $74.95


This service ensures your Subaru operates optimally. We will perform the following services:
Replace engine oil per specifications for your model
Replace filter with Genuine Subaru Oil Filter
Check and top off all fluids
Inspect and set tire pressures
Complete multi-point inspectio

n
---
Minor Basic Service II

— 2014 & Older

Mileage Intervals:
7,500 / 22,500 / 37,500 / 52,500 / 67,500 / 82,500 / 97,500 / 112,500
We will perform the following services:


Replace engine oil per specifications for your model
Replace filter with Genuine Subaru Oil Filter
Check and top off all fluids
Rotate tires and set tire pressures
Inspect wiper blade condition
Complete multi-point inspection

Minor Basic Service II

— 2015 & Newer

Mileage Intervals:
6,000 / 18,000 / 42,000

We will perform the following services:


Replace engine oil per specifications for your model
Replace filter with Genuine Subaru Oil Filter
Check and top off all fluids
Rotate tires and set tire pressures
Inspect wiper blade condition
Complete multi-point inspection
---
Intermediate Basic Service — 2014 & Older

Mileage Intervals
15,000 / 45,000 / 75,000


We will perform the following services:


Replace engine oil per specifications for your model
Replace filter with Genuine Subaru oil filter
Check and top off all fluids
Rotate tires and set tire pressures
Inspect brake pads and discs
Check axle boots and shafts (front and rear)
Inspect brake lines and check brake system operation
Check operation of clutch system (if applicable)
Inspect steering and suspension systems
Inspect wiper blade condition
Pressure test cooling system
Complete multi-point inspections

Additional Services: Replace cabin air filter


Intermediate Basic Service — 2015 & Newer

Mileage Intervals
12,000 / 24,000 / 36,000 / 48,000


We will perform the following services:
Additional Services: Replace cabin air filter
---
Major Basic Service I

— 2014 & Older


Six-cylinder engines and turbo engines will have additional fees.

Mileage Intervals:
30,000 / 60,000 / 90,000 / 120,000


We will perform the following services:



Replace engine oil per specifications for your model
Replace filter with Genuine Subaru oil filter
Check and top off all fluids
Rotate tires and set tire pressures
Replace cabin air filter
Replace spark plugs (if applicable)
Replace air filter
Inspect brake pads and entire braking system
Replace brake fluid
Check axle boots and shafts (front and rear)
Check operation of clutch system (if applicable)
Inspect steering and suspension systems
Inspect cooling system
Replace engine coolant (as needed)
Inspect camshaft drive belt (if applicable)
Inspect wiper blade condition
Inspect fuel lines and system operation
Inspect and top off differential (front and rear)
Inspect and top off transmission fluid
Complete multi-point inspections
Turbo and six-cylinders additional


Major Basic Service I — 2015 & Newer


Six-cylinder engines and turbo engines will have additional fees.

Mileage Intervals:
60,000 / 90,000 / 120,000


We will perform the following services:



Perform synthetic lube, oil, and filter change (up to six qts - 0w20)

Reset oil life indicator (if applicable)

Visually check for any leaks or damage

Check tire inflation pressures and tire wear

Inspect brake lines, hoses, master cylinder and abs system

Perform brake inspection and cleaning (adjust if applicable)

Inspect restraint system components

Check fluid levels

Inspect windshield washer fluid

Inspect windshield wipers for wear or cracking

Lubricate body components

Inspect suspension and steering components

Check transmission/transaxle fluid level

Rotate tires and reset tire pressure monitoring system

Install new engine air filter

Check engine coolant level and inspect engine cooling system

Electronic system performance and battery diagnostic

Perform brake fluid drain and refill service